Hotels in Kosice
Reserve your accommodation online.
---

Rent a car in Kosice
From Kosice aiport at the lowest market rates.
Kosice - Tour guide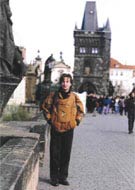 Dr. Milan Kolcun - certified tour guide
Qualified guiding services:
Sightseeing tour of Kosice
English
Russian
Spanish
French
Slovak
Price: 35 EUR per hour
Contact:
Dr. Milan Kolcun
mobile phone: +421-905-55656
For e-mail enquiries please use a contact form below.
Reserve a tour guide - free availability request
After submitting this form, the city guide will respond you as soon as possible.
Use this form also for availability check or price quotation.
No credit cards needed for this request!
We reply your request in 24 hours.
Privacy policy: your personal data are not being stored by the site operator.
·
Back to Top
·