Rent a car in Kosice
From Kosice aiport at the lowest market rates.
---
Tour guiding
With certified guides around the town and close areas.
Kosice - Sights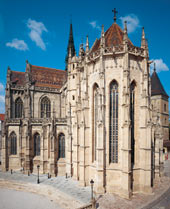 The Complex of the Cathedral of St. Elisabeth A National Cultural Monument, it cosists of the cathedral, the chapel of St. Michael, and St. Urbain Tower.
St. Elizabeth's Cathedral built between 1378 and 1508 and a Gothic masterpiece, is the city's oldest architectural landmark. Particularly imposing is the winged main altar with its three oversize statues and forty-eight panel paintings, while the lateral altars, Gothic wall paintings and sculptures add to the charm. Refurbishment work on the Cathedral is currently under way.
St. Michael's Chapel located to the south of the Catedral, is a single-nave Gothic edifice from the 14th century. Originally a cemetery chapel, it is the city's second oldest building.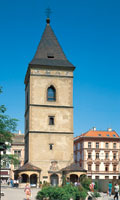 St. Urbain's Tower, a detached medieval bell-tower from 14th century also belongs to the cathedral complex, all of which was originally surrounded by a churchyard wall until 19th century. The Bell of St. Urbain is cast from the former one which was damged by fire.
The State Theatre built in the middle of square in a park according to the design in the historicizing style be A.A.Lang and Steinhardt at the end of 19th century. The auditorium ceiling-paiting in be P.Gastgeb.
The Forgach palace, an eleven axial two storeyed palace of the nobillity built in Empire style in the early 19th century, now houses the State Science Library.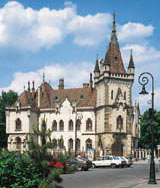 Immaculata, this sculptural group is situated on the former scaffold site in the square; it was erected by builder Tornyossy and sculptor Grimming in 1720 - 1723. The monument was restored several times, and several statues were replaced by copies. The square is built up with palaces, burghers' houses and sacral buildings.
Jakab Palace, located next to a former mill-race, the palace was built by Jakab, the architect of many Art Nouveau and Romantic buildings. He used rejected stone elements from renovated St. Elisabeth for the construction of this palace at the end of 19th century.
For location of individual sights please see the city map.
·
Back to Top
·