Rent a car in Kosice
From Kosice aiport at the lowest market rates.
---
Tour guiding
With certified guides around the town and close areas.
Kosice - Surroundings
The close environs of Kosice offer many opportunities for spending leisure time on sport, relaxation or entertainment.
Hradova
ZOO Kosice
040 06 Kosice - Kavecany
SLOVAKIA
tel.: 421/055/63 381 03
fax: 421/055/63 391 53
Open:
Summer /1.4. - 31.10./
9.00 a.m. - 7.00 p.m.
Winter /1.11. - 31.3./
9.00 a.m. - 3.00 p.m.

To the north of the city rises the hill called Hradova, 466 metres high. Between 1994 and 1997 intesive archeological research was done here, and foundations were discovered of 200-meter long fortified stucture with one triangular and two round towers, thought to date back to the early 14th century, and attributed to the Palatine Omodej. The location of the building lead us to believe that a castle was built here which stimulated Kosice's development in medieval times.

There is an excellent view down into the Kosice Basin, and this provided the opportunity to control two important trade routes of the period, one leading from the Balkans across the Tisa lowlands into the Spis region and on to Prussia, and the other from Polish Galicia through to Russia. Unfortunately the lack of documentary proof does not allow us as yet to draw any more specific conclusions...

Today Hradova is a popular place for outings. The forest park here is home to several rare plants, including the Slovakian pasque-flower or anemone. From the look-out tower on the hilltop there is a great view over the city and surrounding area.

On the occasion of Kosice Day in 1997 on the site of the old fortifications, the Mayor of the City together with a Lady of the Castle directed a storming of the castle.
Bankov Hill
Bankov (3 km) offers pleasant opportunities for open-air barbeque parties, parties in the summer garden, and accommodation in the exclusive hotel Bankov****, Dolný Bankov, Kosice.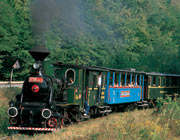 Cermel Valley
The Cermel Valley is a popular place for relaxation, featuring the largest woodland park in the Kosice area. The children's railway in an attraction taking kids and adults alike up the valley to the leisure area of Alpinka.
Zoo Garden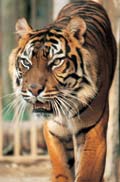 Spreading over 278.3 hectares, the zoological garden in Kavecany is the largest one in Central Europe. Visitors can enjoy themselves not only recognizing more than 100 special of animals, but also taking part in "christening" or feeding their offsprings.
More about attractions within Kosice surroundings:
Bobsleigh run in Kavecany
The Botanical Garden
Let us now go back down and continue our tour of the city's streets, looking into its past and its present.
·
Back to Top
·