Hotels in Kosice
Reserve your accommodation online.
---

Rent a car in Kosice
From Kosice aiport at the lowest market rates.
---
Tour guiding
With certified guides around the town and close areas.
Kosice - How to get here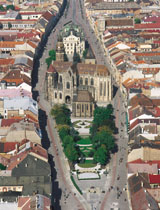 By train
Many of Europe's busiest train routes pass through or very near Slovakia. It is especially simple to travel from neighbouring countries. There are also regular trains directly to and from key cities in Germany, Italy and Russia. Generally, the train fares are very low. The train network in Slovakia is well developed, and trains are the most comfortable way to travel. Check out the web site of Slovak Railways for a comprehensive train schedule available in english version.
New connection KOSICE-VIENNA
by AUSTRIAN AIRLINES:
from VIENNA at: 13.25 22.15
from KOSICE at: 05.40 15.05

By air
Regularly scheduled flights come to international Kosice airport (from Prague, Vienna and sometimes from Brno and Moscow) and Bratislava (from many cities, including Zurich, Prague, Moscow, Tel Aviv and Persian Gulf states). Other destinations are added from time to time, but these are fairly stable. Charter flights reach many more regional airports. (Served by Czech Airlines, Slovak Airlines, Sky Europe, Austrian Airlines, British Midland, and more).
Direct express train
"CRACOVIA":
Cracow (
Krakow
) » Kosice » Budapest
By bus
Most countries in Europe are connected with Slovak destinations by regular service, usually direct (Eurolines provides service from 21 European towns).
By car
Slovakia is now in the process of connecting its key cities by express motorways, but this project will not be complete for few years. However, smaller roads are generally in good condition. Roads are marked as in Western Europe. You don't have to pay any taxes or fees. Hitch-hiking is common, and legal except on major highways.
By boat
Simply not possible.